OFFSHORE WIND CONNECTIONS 2019
OWC2019 is a 'must attend' event for all those interested in this growing market.
Offshore Wind Connections 2019 (OWC2019) is the event for all those interested in the rapidly growing offshore wind sector in the North Sea and beyond.  Hosted by Team Humber Marine Alliance, it is now in its seventh year and will take place on 1 and 2 May at the Doubletree by Hilton Hull.
OWC 2018 saw over 350 delegates attend and over 40 companies exhibit with a fantastic speaker line-up!  Following on from that success, 2019 will be better with improvements to the exhibition area with more room for exhibitors and delegates.
OWC 2019 will offer the chance to network with key players from across the offshore wind sector.
The two-day event commences on 1 May with "WindMeet", a programme of 1-2-1 sessions with representatives from key offshore wind industry organisations. (More details and how to book will be provided soon).
The conference will be officially opened on the evening of 1 May at the networking reception with RenewableUK.
The evening will give exhibitors and delegates the opportunity to network in a relaxed atmosphere.  Those who have booked to attend the conference can attend the evening reception at no extra charge.
The  main conference and exhibition on the 2 May will include contributions from high-profile guest speakers. There will be opportunities to network throughout the day at breakfast, lunch or during the afternoon.
Why get involved?
Highest profile offshore wind event in the region which attracts regional, national and international delegates
Key industry speakers
Network with hundreds of delegates at the conference and networking events
Excellent media coverage
Join us for what will be the only event of its kind in the region!
Organised by Team Humber Marine Alliance (THMA), this is the perfect time and place to assess what our region has to offer. Three of the UK's largest wind farms and 80 per cent of all North Sea offshore wind farms are on our doorstep, while 60 per cent of the entire European offshore wind project to be built by 2020 are within 12 hours vessel steaming time.
OWC2019 is devoted to delivering business intelligence by creating opportunities for knowledge sharing and business networking throughout the day.
Opportunity to attend the RenewableUK pre-conference networking reception on May 1st.
OWC2019 EVENT PROGRAMME
Thought leaders and key industry figures will discuss the latest developments in the industry including updates on key projects from developers, government organisations, manufacturers, port operators, marine support, vessel owners and operations and maintenance service providers.
The morning session with contributions from guest speakers will be followed in the afternoon by specialist panels on contemporary industry subjects.  The late afternoon event will see a further chance to network.
After the success of Hull 2017 City of Culture, the brand new Double Tree by Hilton located in the city centre is a very fitting setting for OWC 2019!
Returning for 2019 will see additional activities on day one of the event including proposed site visits in the morning and in the afternoon WindMeet 1-2-1 sessions with key industry representatives.
All tickets include access to the conference and exhibition on 1 & 2 May, 2019.
If you or your business are not already members of Team Humber Marine Alliance,
please contact THMA office manager, Mary Green on 01482 485271
SPONSORSHIP AND EXHIBITION OPPORTUNITIES
There are a limited number of Sponsorship and Exhibition opportunities available at OWC2019
Raise awareness of your company
products and services with a high calibre
informed and well-connected audience of offshore wind industry professionals.
EXHIBITION STANDS
£395 + VAT
STILL AVAILABLE
Sponsorship packages to suit all budgets, including Platinum Sponsor and Gold Sponsor
For an informal conversation and to find more information about what is on offer with Sponsorships and Exhibition packages, please contact THMA office manager, Mary Green on 01482 485271
GETTING THERE
How to find Double Tree by Hilton, Hull, the venue for Offshore Wind Connections 2019
Double Tree by Hilton, is easily accessible by both road and rail, with Hull railway station and a host of city centre car parks all within 10 minutes walk from the venue.
Directions by road:
From South or West: Take M1 then M62 then A63 follow signs for Hull City centre, at Myton gate roundabout take A1079 onto Ferensway, pass St Stephens Shopping centre, the hotel is on the left down Portland Place.
From North: Take A1 then M62 then A63,follow signs for city centre,at Myton gate roundabout take A1079 onto Ferensway, pass St Stephen's shopping centre, the hotel is on the left down Portland place.
From the train station:
The train station is very centrally placed and the Double Tree Hilton is a 10 minute walk. Once you have disembarked from the platform, exit the station on the left next to the ticket purchasing office. Head past the St Stephens' Shopping centre and Hull Truck Theatre and the Double Tree Hilton is on your left.
VENUE ADDRESS
Double Tree by Hilton, Hull
24 Ferensway,
Hull HU2 8NH
CONTACT US
Team Humber Marine Alliance – THMA office manager, Mary Green
01482 485271
Team Humber Marine Alliance,
Bridgehead Business Park North,
Meadow Road, Boothferry Road,
Hessle HU13 0GD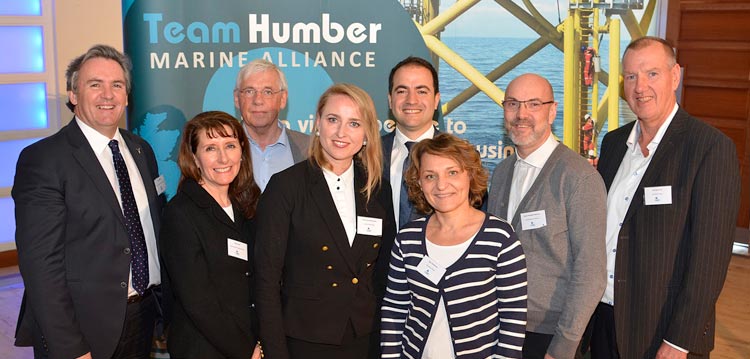 TEAM HUMBER MARINE ALLIANCE
This not-for-profit, privately operated business development organisation has a growing membership of over 200 companies.
THMA has a focus on the marine and offshore energy sectors based in Yorkshire, Humber and Lincolnshire region.
Established in 1996 as one of the main Marine, Maritime & offshore renewables organisations in the UK, THMA works in partnership with five local authorities, the Humber Local Enterprise Partnership and key academic institutions.
We have facilitated millions of pounds worth of new business for our members whilst organising overseas trade missions, networking events, exhibitions, workshops and conferences.
Team Humber is actively supporting skills development programmes and has an active and successful Maritime & Offshore Skills Group.
To find out more about THMA visit our website (opens in a new window)
KEY FACTS
Team Humber Marine Alliance – THMA office manager, Mary Green
200+ member companies
17,000+ member employees
20-year-old not-for-profit private member organisation
Green Port Growth Business Support framework partner
Humber Renewables official exhibition organiser – (with the Humber LEP)
Humber Renewables Champion 2014 - Mail Media & News
Affiliate partner of EEF The manufacturers' organisation