OFFSHORE WIND CONNECTIONS 2022
Presented by Team Humber Marine Alliance
Offshore Wind Connections is back for 2022 at The Spa, Bridlington – a fantastic venue that has proved hugely popular in previous years. With an ideal combination of exhibition, networking and socialising spaces along with the coastal location, it promotes a 'get-away' atmosphere, allowing delegates to become fully immersed in all this exciting industry event has to offer.
The conference and exhibition has grown in stature to become one of the leading and best known UK offshore wind events, and OWC2022 will be the ninth year it has been held. It attracts hundreds of regional, national and international delegates, and provides invaluable information and contacts for companies that are well-established in the sector and for those looking to enter or diversify into the market. It is supported by a stellar cast of businesses, with Ørsted being the headline sponsor for 2022.
With massive new investments announced in the Humber region over the past 12 months, OWC2022 is a must event if you want to make contacts that count and get the latest on this rapidly evolving, vibrant sector.
The two-day event commences on the evening of April 27 with opening speeches from high profile guest speakers and the customary and enjoyable RenewableUK Connect event.
April 28 will continue with speakers, presentations and networking. Experts and industry figures including OEMs, government organisations, manufacturers, port operators, vessel owners and operations and maintenance service providers, will discuss the latest developments and provide updates on key projects. Full details will be released over the coming weeks, so please check the website from time to time for updates.
Why get involved?
With the Humber's freeport status and significant new investments announced over the last 12 months, OWC2022 will see many of the key players and supply chain companies getting together to reflect on the journey so far and to discuss the opportunities for the next few years.
High profile event which attracts regional, national and international delegates
Auditorium specifically for exhibitors and networking
Key industry speakers in the conference and theatre spaces
Network with hundreds of delegates from the UK and abroad
Converge on Bridlington and be part of the future of offshore wind!
OWC2022 EVENT PROGRAMME
Event Overview
This two-day event commences on the evening of Wednesday, April 27 with opening speeches and a RenewableUK Connect networking event. Thursday, April 28 will be a packed day of speakers, exhibiting and networking. The full itinerary will be released prior to the event and published on this page soon.
If you need any further information, please contact Mary Green, operations manager at Team Humber Marine Alliance on  +44 (0) 7590 963378 marygreen@thma.co.uk
Who's Attending
Orsted

RSM

Kestrel

Renewable UK

Cargo Store

Fulkrum

Sunbelt Rentals

Salfina Limited

PANOLIN

Grimsby Renewable Partnership

Wind Energy Network

REACH plc

Boston Energy Ltd

Business Works Magazine

ORE Catapult

MMS Offshore Renewable Services Ltd

reNEWS

Commerce & Industry Magazine

Torque Solutions

Vestas

HOTA (Humberside Offshore Training Association)

Rope Access Trade Solutions

Tidal Transit / Louis Dreyfus Armateurs

Comtec Int

Kurt Fish Sales Limited

Rix Shipping Co Limited

ABP (Associated British Ports)

Cleethorpes Lettings

MAPA PR

Mindmap Productions

IRISNDT
Day 1 : 27th April
Time

Details

16.00 - until late

27th April

Day 1 Offshore Wind Connections Connections Conference & Exhibition 2022
Day 2 : 28th April
Time

Details

9:30 - 15.00

28th April

Day 2 Offshore Wind Connections Connections Conference & Exhibition 2022
OWC 2022 SPEAKERS
Speakers to be announced shortly.
All tickets include access to the conference and exhibition on 27 & 28 April, 2022.
If you or your business are not already members of Team Humber Marine Alliance,
please contact THMA Operations Manager, Mary Green on +44 (0) 7590 963378
SPONSORSHIP AND EXHIBITION OPPORTUNITIES
There are a limited number of Sponsorship and Exhibition opportunities available at OWC2022
Raise awareness of your company
High calibre products and services
Informed and well-connected audience of offshore wind industry professionals.
EXHIBITION STANDS
£395 + VAT
STILL AVAILABLE
There are sponsorship packages to suit all budgets, including Platinum Sponsor and Gold Sponsor
HEADLINE SPONSOR
ALL SOLD
BESPOKE SPONSOR OPPORTUNITIES ARE ALSO AVAILABLE
For further information please contact Mary Green.
For an informal conversation and to find more information about what is on offer with Sponsorship, Exhibition and Advertising Opportunities, please contact THMA Operations Manager, Mary Green on +44 (0) 7590 963378
How to find The Spa, Bridlington
The Spa, Bridlington is easily accessible by both road and rail, with Bridlington railway station and a host of town centre car parks all within 10 minutes walk of the venue.
Directions by road:
From the South and West, take the M62 Eastbound to junction 36, then the A614 to Bridlington. Follow signs for The Spa/South Beach.
From the North, take the A1 to A19/A166 (inland route) or A171/A165 (coastal route).
Directions by rail:
Bridlington is on the East Coast line, which offers connections from Hull and York to all other destinations throughout the country. On arrival, turn right out of the station and cross the coach park onto Hilderthorpe Road. Go straight across and along New Burlington Road until the junction with West Street. Turn left and then right onto Neptune Street. The Spa, Bridlington is visible straight ahead.
Please click below for maps.
Park and Ride Bridlington (pdf 2.8mb opens in a new window)
How to find Bridlington (pdf 3.2mb opens in a new window)
How to find the Spa and parking (pdf 1.5mb opens in a new window)
Presented by

CONTACT US
Team Humber Marine Alliance – THMA Operations Manager, Mary Green
+44 (0) 7590 963378
Team Humber Marine Alliance,
Bridgehead Business Park North,
Meadow Road, Boothferry Road,
Hessle HU13 0GD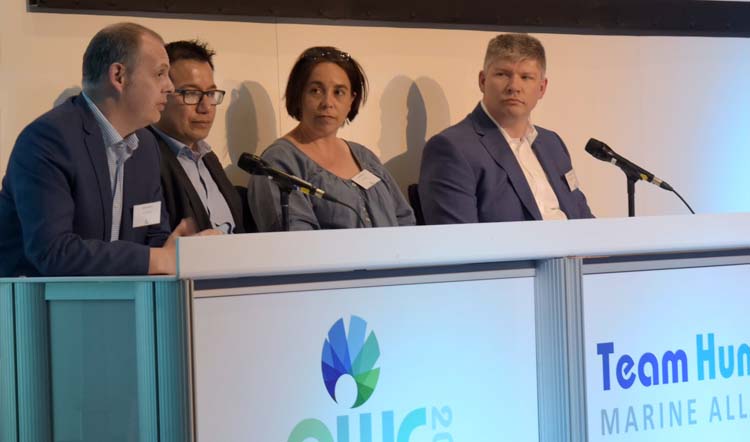 Team Humber Marine Alliance
Team Humber Marine Alliance is a driving force in the Humber region's growth as an offshore wind player. Its influence extends to central government and world-leading OEMs, and it has formed partnerships with areas that are in the earlier development stages of the offshore renewables market – in particular, East Coast USA.
It was established in 1996 and is now a leading UK maritime & offshore renewables organisation with more than 200 members providing full supply chain capabilities, including in commercial shipping, marine engineering, support vessels, specialist health & safety and ports & logistics.
Team Humber Marine Alliance works in support of this vast array of skills and expertise, promoting it regionally, nationally and globally and generating major opportunities and business for members. It provides expert advice, brings companies together to collaborate on joint ventures and supply chain opportunities, lobbies the government and represents members at key UK and European conference and exhibitions. It also hosts and organises overseas trade missions and numerous events, including its flagship annual Offshore Wind Connections conference.
To find out more about THMA, click here
KEY FACTS
Team Humber Marine Alliance – THMA Operations Manager, Mary Green
200+ member companies
17,000+ member employees
25 year old as an organisation and 10 year old as a not-for-profit organisation